Support Center
Returns
90-Day Returns
Tennis Warehouse wants you to take comfort in knowing that all items can be returned for a full refund within 90 days of the invoice date. In order to be eligible for a full refund, items must be returned in brand new and resell-able condition. Items returned used, or outside of the 90 day window may be eligible for an exchange or store credit.
Fill out the contiguous return form and include it in the box for shipment.
Sending back a gift? Use the Gift Return form and follow the steps outlined below.
Attach the enclosed prepaid UPS Ground shipping label to the outside of the package.
Drop the shipment off at any authorized UPS Service Station or UPS Drop Off location.
All Exchanged product will be shipped back to you free of charge via UPS Ground unless otherwise specified.
We will take care of the rest and will notify you via email when your return is processed!
For additional questions regarding Tennis Warehouse returns please email: info@tennis-warehouse.com.
All sales are final on the purchase of used racquets, including used Demos.
Any racquet purchased as new, and returned used within 90 days (excluding junior racquets), will be eligible for partial store credit of the original racquet value.

Racquets that have plastic removed from the handle and/or any tennis ball fuzz on the strings are no longer considered new, and are ineligible for a full refund.
Any drop shipped item (shipped directly from manufacturer) must be returned to the manufacturer within 30 days of the original invoice date.
You must request a Return Authorization (RA) from Tennis Warehouse. Please email machines@tennis-warehouse.com with your return request.
Any restocking fees and return shipping costs will be paid for by the customer.
Return shipping labels are not provided for drop shipped items.
Drop shipped items being returned must be unused and in their original packaging.
Warranties
If you receive an item that is broken or defective prior to use, contact Tennis Warehouse immediately to arrange for a replacement or credit. For defects or damage that occurs after an item has been used, it is subject to the warranty terms that vary by item and manufacturer. Please contact us about return procedures for any product you believe to be defective. All defective merchandise is subject to inspection to determine if the issue is a result of a manufacturer's defect, normal wear and tear, or misuse.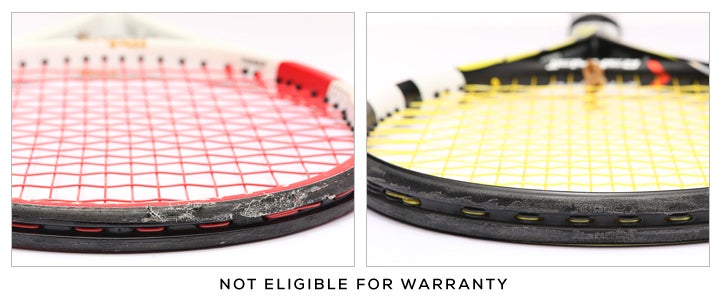 All racquets purchased new come with a one-year warranty against defect.
If deemed defective, a replacement will be issued immediately. The racquet will be strung with the originally purchased string and tension.
If the original racquet is no longer available, you will be contacted to choose a new racquet within the same brand.
If the racquet is not considered defective, it will be returned to you for free with a detailed explanation.
Product description must state shoe has an outsole durability guarantee.
Return qualifying shoes to Tennis Warehouse for replacement.
Sole warranties are a one-time replacement.
In the event the purchased shoe is no longer available, a shoe of equal or greater value within the same brand will be substituted. (These shoes will not come with an outsole warranty).
Warranty only covers the rubber outsole of the shoe. Damage to the toe-guard or upper of the shoe does not qualify for the warranty replacement.
Shoe must be completely worn through the outsole and into the midsole or insole of the shoe.
Warranty is void if the shoe is abused or mishandled.